Candidate Physical Ability Test

The Candidate Physical Ability Test (CPAT) is the recognized standard for measuring an individual's ability to handle the physical demands of being a firefighter.
The timed test measures how candidates handle eight separate events, all designed to mirror tasks on the job.
FCTC proudly administers the CPAT on behalf of the California Firefighter Joint Apprenticeship Committee (Cal-JAC), the exclusive statewide CPAT provider.
---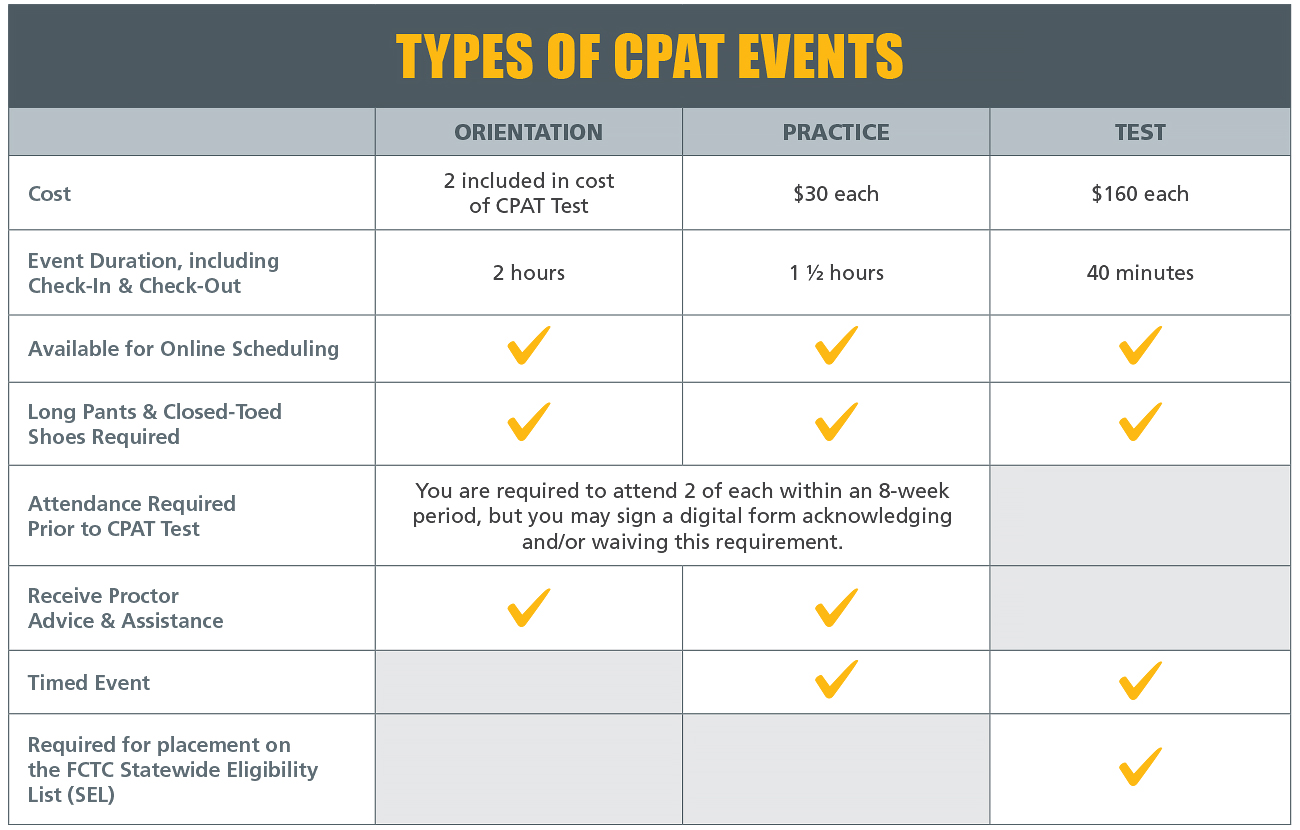 ---
CPAT Details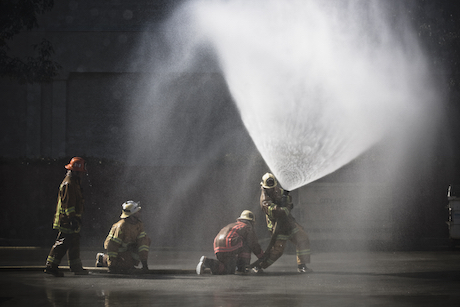 Participants in the CPAT must navigate eight separate events on a closed course within a span of 10 minutes and 20 seconds. Each event simulates a physical skill or function that firefighters experience on the job.
During the test, candidates wear a helmet, gloves and 50-lb weighted vests, designed to simulate the weight of firefighter personal protective equipment. For the stair climb – the first event – candidates will don an additional 25-lb weight, to simulate the carrying of a hose pack into a high-rise fire.
Candidates will be accompanied by a test proctor, who will call out directions for the test events and score the candidate's success in real time. 
Each event must be completed exactly as prescribed – if a candidate fails any component of the test, they will fail the entire test. Candidates also fail if they do not complete the eight events within the 10-minute, 20-second time limit.
---
Scheduling Your CPAT
All CPAT participants must be at least 18 years of age and possess proper government-issued identification. CPAT tests must be scheduled online in advance -- test-day registration or rescheduling is not accepted.
The CPAT testing fee includes the test and two optional orientation sessions. Additional practice days can also be scheduled separately for an additional fee. All fees are non-refundable.
CLICK HERE FOR FEE INFORMATION
CLICK HERE FOR FINANCIAL HARDSHIP INFORMATION
CLICK HERE TO VIEW A SCHEDULE OF UPCOMING TEST DATES
Rescheduling your test: Candidates may reschedule their test date up to two business days beforehand without penalty. Changes less than two business days before a scheduled CPAT will be subject to a $50 processing fee. 
FCTC does not accept reschedule requests on the day of the event. 
Cancellations: All FCTC fees are non-refundable. Candidates may cancel their test, but will forfeit their testing fees. 
No-shows: If you do not show up on your scheduled test day, your fee is forfeited. If you want to schedule another test day, you will have to pay the full fee again. 
---
Preparing to Take the CPAT
Orientation
The IAFF/IAFC standards for the Candidate Physical Ability Test states that each candidate must have the opportunity to attend at least two orientation sessions within eight (8) weeks prior to taking the test.
During orientation, candidates will receive instruction on the test and the test events, and will have the opportunity to try out the CPAT testing equipment to better understand what will be required.
Participation in one or more orientation sessions is strongly encouraged. Candidates who take advantage of orientation consistently have a higher passage rate than those who do not. The two orientation sessions are included in the testing fee.
FCTC also provides a complete online Orientation Guide, with detailed information about the test events.
WATCH THE  CPAT ORIENTATION VIDEO
CLICK HERE TO VIEW THE IAFF/IAFC CPAT ORIENTATION GUIDE

Practice
In addition to orientation, candidates have the option to sign up for at least two (2) timed practice runs prior to the test itself. Unlike orientation, practice tests are a full-scale simulation of the test. There is an additional fee per practice test. Like orientation, candidates that take at least one practice test consistently pass at a higher rate.
If you choose not to participate in this pre-test program, you will be required to sign a waiver acknowledging that you are aware of the pre-test program and have declined to include it in your preparations to complete the CPAT. 


Getting in Shape to Take CPAT
Like firefighting, the key to success in the CPAT is preparation. FCTC's CPAT Preparation Guide will help you prepare, with detailed information on:
Physical demands of the test
Training principles
Warm-up strategies
Techniques for building flexibility, strength and cardiovascular endurance
Hydration and training strategies
CLICK HERE TO VIEW AND DOWNLOAD THE CPAT PREPARATION GUIDE
---
Day of the Test
On test day, you will be required to show proper government-issued identification.
For the safety of candidates and proctors, a strict dress code is enforced:
Long Pants to the ankle (No Shorts, No Capris)
T-Shirt or sweatshirt
Footwear with no open heel or toe (No five-finger shoes, barefoot running shoes, individual toe shoes, flip-flops, etc.)
No loose or restrictive jewelry
Candidates must be in proper CPAT attire before participating in any CPAT event. FCTC does not provide attire for those taking the test.
---
Additional Information
Click here to sign your CPAT Digital Waiver.
If you have additional questions about the CPAT, check out our CPAT FAQ. If you still have questions, contact FCTC.